The 60-40 Rule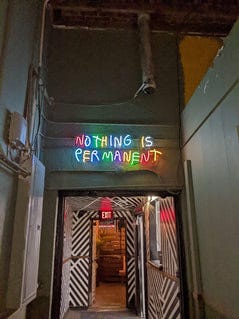 "If you can't figure out what kind of work you like, pay attention to what's easy to concentrate on and gives you energy vs. what makes you tune out and feel tired." (Sam Altman via James Clear)
In my 20+ years professional career I've worked for three different organizations, but I've changed roles many times. Most of the role changes were upward or progressive -- meaning that they were incremental in scope, responsibility, and/or visibility. 
Somewhat paradoxically, I have also interviewed with dozens of different companies. I am of the mindset, and support everyone I've ever coached or led to do the same, that exploration enhances commitment. That is, I want you to go out and interview with other companies. I want to facilitate your growth and if another role or company allows you to do that, I want that for you*. 
I want your whole self at work, driven by your choice. I.e., if you chose to stay here working for me, great! You chose that, fully aware of what was on the "other side". If, however, you feel empowered to take on another role because you have empirically mapped out** that the new opportunity is going to give you something accretive, then do that!*** I want your whole self, not your partial self because you "feel" the grass is greener--get some evidence and let's debate. 
Sometimes it is beneficial to bloom where you're planted. And sometimes it is beneficial to plant seeds elsewhere. So how do you know? The 60-40 rule is fairly useful. 
The 60-40 rule is an imperfect, qualitative, and biased mental shortcut that helps me decide, grow, sacrifice, learn, etc. for various professional crossroads/questions.  
It is basically my crap tolerance floor. The lowest I'll accept. A 50-50 coin flip can be entirely up to chance, it is too low. A 60-40 is my minimally acceptable criteria for doing something day-in/day-out. It gives me a threshold. 
You might argue that technically anything from 51-49 to 100-0 could also be acceptable. Sure it can. But I prefer not to get into the semantics or inaccuracies of the numbers themselves. Let's not be precisely inaccurate. On any given day, I'll make dozens of decisions, some poignant most not. But when it comes to my professional life balance, the 60-40 comes in handy. 
To explain, sometimes work days are 100% amazing. Sometimes work days are 100% sh-t. But on the whole, is it generally more amazing than sh-t? If it is 50-50, you may want to consider a different job. I.e., if on any given day there is a 50-50 chance that your day is going to be sh-t, then time to reassess. Is it your expectations? Is it the environment? Is it the culture? Your boss? Take the time to diagnose the situation and then seek counsel from those whom you trust to illuminate your biases, and then make an informed decision.
If on the whole, however, you have a reasonable sense of autonomy, purpose, and mastery (Dan Pink), and you like the people you work with and whom you work for, then water the grass you're on; explore how can you improve your education, experience, or exposure to improve your ratio a bit. This could look like taking classes, working with your manager for added scope (or a reduction of scope), meeting with others in your organization or your field, etc.
​​So, the next time you're wondering, "should I stay or should I go?" Reflect on Altman's quote--think about the ratio of "energy accretion" versus "energy dilution". Are you at 60-40? 
---