From Z (MOT) to A (MOT)
There's plenty of buzz around Google's latest marketing framework called ZMOT and I'm hooked.  Like others (here and here), I have been contemplating ZMOT and how it integrates into the existing FMOT & SMOT marketing concepts.  As such, I'd like to build on the discussion and introduce a new element: AMOT.
Who's got the MOT?
Circa 2005, A.G. Lafley coined the terms First Moment of Truth (win consumers at the shelf) and Second Moment of Truth (delighting the consumer at home when the product exceeds her expectation).  This "stimulus -> FMOT -> SMOT" marketing process has guided the thoughts of many marketers over the years and has served as an excellent construct on how to engage and sell to consumers. 
Fast forward to today and Google has introduced the concept of Zero Moment of Truth, codifying that consumers are engaging with brands or products digitally before they ever step into the store or see the shelf.  "They learn from search results, user reviews, four-star ratings, text ads, image ads, news headlines, videos and even good old-fashioned official brand websites."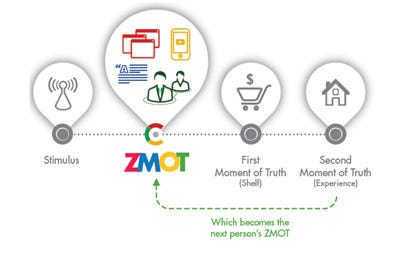 Worth of Mouth = Advocate = AMOT
As Google illustrates above, consumers' experiences (SMOT) and more importantly their ability to quickly share their experiences become the next person's ZMOT; the cycle perpetuates and constantly influences purchase decisions – permanently changing the landscape for brands.  I, however, propose that consumers can advocate at any point in the consumer engagement timeline; we all have the potential to advocate anytime, anywhere.   McKinsey calls it "building touch-points"; Google calls it Word of MOT.  I call it Anytime Advocacy or the Advocacy Moment of Truth.  
Because consumers can be in AMOT 24/7, brands also have to think about their ZMOT perception, their FMOT & SMOT presence, their available digital tools, and overall message 24/7.  I.e. advocacy doesn't happen just after SMOT.  

@ Stimulus.  You can advocate your desire at stimulus. E.g. "I need shoes."  Expressed through social media, this usually causes a whirlwind of push ZMOT activities.

@ ZMOT.  AMOT (advocacy) is a continuous push-pull loop with ZMOT.

@ FMOT.  You can advocate when you're at the shelf.  E.g. "Hey all, I just found X product on sale at Y retailer or online. Make sure you go to Z store and present W coupon to take full advantage of the BOGO. "

@ SMOT. You can advocate after you've used the product.  E.g. "OMG, I just used the X product and it blew me away!  Make sure you use it like this and visit this blog to get more tips on how to make it work best."
As Google states:  brands can no longer control the message.  I agree, brands are always "on air".  At any given point during the timeline, consumers can choose when, how, where, and to what level they choose to engage in, co-create, influence and – ideally – advocate for and amplify a brand's message.  The question brands are now trying to figure out is how much to and when to listen, how to engage back, and ultimately, how to measure returns on those efforts.  
Seems A.G. was equally prescient when he constantly argued, "the consumer is boss."  Now that the consumers can say whatever they want, when they want, about any brand in just about any forum...that sentiment rings truer today than ever before.