Consumer-of-One
"I really want to be an advocate for individuality and encourage people to be sensitive to their own needs and to stand up for their own truth, even if someone else is telling them what they should do or how it should feel - to own their own experience above all others." Sadie Nardini
Today's Lens: How will a brand determine its marketing mix as consumer segmentation races to a consumer-of-one?
The increasing number of local restaurants (some regional, few national) sourcing food and beverage exclusively from local providers and local farms.

Rise of marketing / PR that communicates "buy local" (and the commensurate sales lift that comes with it).

Upsurge of studios, boutiques, and personalized / customized services.

Consumers' increasing demands for authenticity and transparency.
Enough has been written about how the advent of the internet and social media has enabled consumers to interact with brands on-demand and in real time - where every consumer matters (or at the very least has the tools to behave as if they do).  This rise of the "consumer-of-one", as I'm proposing here, presents brand managers with several questions (not exhaustive): Which of the multitude of touchpoints (media vehicles or platforms) best capture eye-share?  For which product/brand does "it" work best? For whom and when does "it" work best? And ultimately, will the resulting engagement translate to sales at the register (physical or online)? 
Despite the evolution of consumer behavior traditional CPGs, large-scale advertisers, and brand managers therein are struggling to gain traction generally due to two big obstacles: 1) How to segment the consumer-of-one and 2) how to efficiently structure media buys that engage the consumer-of-one?
I, Consumer
Consumer segmentation has become even more critical, and infinitely more difficult, than before.  Even as I write about it, the word "segmentation" may not work anymore.  More aptly named "consumer individualization": where each consumer is a segment of one, where every consumer is demanding a unique experience, and where every consumer has the potential to engage and disrupt the brand's originally intended message.  And that is the challenge for brand managers and brand marketing professionals today: how do you "do marketing" at the individual level?  
The short answer is that you can't.  It's simply not cost effective to develop content or marketing campaigns for every single purchasing household in America; it's even more frightening (or exhilarating) to think about the global consumer-of-one.  The answer I believe is dispersed brand marketing: where content marketing matters more (yes, I'm jumping on the bandwagon), where user generated and crowdsourced content matter more, where brands generate the stimulus and then get out of the way.
---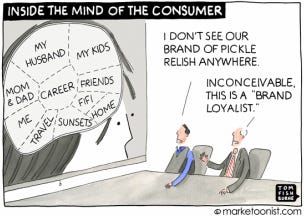 Granted, the concept of dispersed brand marketing basically puts me out of a job, but since consumers are making up their own mind (or not) about brands anyway, why not "give" the brands to them?  Let consumers use whatever platform they prefer to blast out the brand's promise, message, or character (aka brand communication strategy). 
Unfortunately, before a brand is able to release control, own less, and influence more, big box brands often then run into an advertising system that is also grappling with the consumer-of-one digitized consumption model.
Cannonballs, Bullets, Rocks, and Darts
Today's advertising system faces a problem of inertia where it "has erected an ecosystem with ingrained systems, relationships and methodologies that are ill-equipped to fighting the challenges of the digital era."  Traditional CPGs and large-scale advertisers especially struggle with how to invest in platforms and micro-targeted vehicles, versus the efficiency gained by large-scale bulk media buys recommended by their agencies of record. 
For example, at an industry expo/conference I attended a while ago, the concept of "bullets then cannonballs" was posited. Marc Pritchard, P&G's Global Brand Building Officer, instructed all of the marketing professionals and brand managers in the theater to "shoot multiple bullets (small marketing campaigns) to see if we get any hits, then when we do, blast them with cannonballs (big marketing campaigns, scaled across multiple brands)".  At the time, it made sense:  test often, scale the winners.  After reflection however, and given the rapid and constantly evolving consumer-of-one, I don't think we need ever go to the cannonball phase for several reasons:
Authenticity/Relevance.  The consumer-of-one is leery of and ignoring mass marketing scale vehicles altogether.

Time.  By the time you align all the brands on the scale play, the consumer has moved on; i.e. if you were to shoot another bullet in that direction, you'd likely miss this time around.  Worse: The cannonball would fall on an empty field.

Expensive.  Cannonballs are expensive, especially so if you miss (consumer has moved on) or lands on a target that's already been hit (cluttered messaging).
Net, brands don't need cannonballs; to continue the analogy, instead brands need a steady stream of bullets, rocks, and virus-tipped darts.  Furthermore, brands should consider giving the bullets, rocks, and darts to the consumers themselves. Big brands (and their big agencies) should carve out marketing dollars to experiment more with small campaigns co-created with and on platforms that the consumers dictate.  Brands can explode the advocacy moment of truth by ensuring consumers are able to engage with (and possibly co-create) every piece of content the brand publishes (beyond adding a "like us" or "tweet this" or "buy it now" button).  The empowered consumer-of-one will thank you for it figuratively (i.e. brand advocacy, amplification) and literally (i.e. sales).
Other thought nuggets:
Consumer-of-one, meet product-for-you:  Will brands become obsolete when there's a 3D printer in every home? I.e. why buy what a company produces when you can customize it for yourself?  Will the consumer-of-one continue to accelerate the digitization of the economy?  Will consumer-of-one "advertising" become easier with virtual reality shopping? Is there a time when a consumer makes a custom product on their 3D printer, the 3D printer regularly updates his/her social circle in real-time (opt-in of course), the consumer then "advertises" the completion of the product and friends are able to "place orders" via virtual or real currency?

I, Employee: how will managers of the future deal with the employee-of-one?  We often forget that consumer behavior is carried into the workplace and employees now have similar expectations: employees-of-one are "eager to contribute, to have a voice, to add value; they want to make an immediate impact."  Gone are the days of long apprenticeship where employees understood the trade-off of working in rote, top-down structures that rewarded them after a prescribed point of time elapsed (i.e. keep your head down and wait your turn).  The employee-of-one, like the consumer-of-one, is anxious to express him/herself and equally hungry for a unique experience that is tailored to and recognizes their unique skill set.
---